Overcast vs Sunny Day
The Woodlands Family Photographer
Ashley Newman Photography
What is the difference and what should you do if the forecast doesn't look the way you had hoped?
Texas is known for being unpredictable when it comes to weather, so it can be frustrating to plan a family photo session and end up with weather that doesn't match your vision. This blog post is designed to help you make the best decision for your family session and visually see the difference between locations on a sunny and overcast day.
In support of an overcast day:
It will keep the heat down on hot days, which is always a plus in Houston.
Overcast days create a natural filter that makes the lighting soft and even on your skin- no harsh shadows of major changes in light!
Sometimes we get beautiful sunsets to end the session or moody fun clouds in the sky that really add some drama.
There are just times were you cannot reschedule- maternity photos, conflicting schedules or travel dates, date specific birthday/milestone, and that is ok!
At the end of the day, clouds in the sky are not a bad thing. Photo sessions on overcast days are quite beautiful and as I am sure you can see from the examples, magical memories happen whether the sun comes out or not!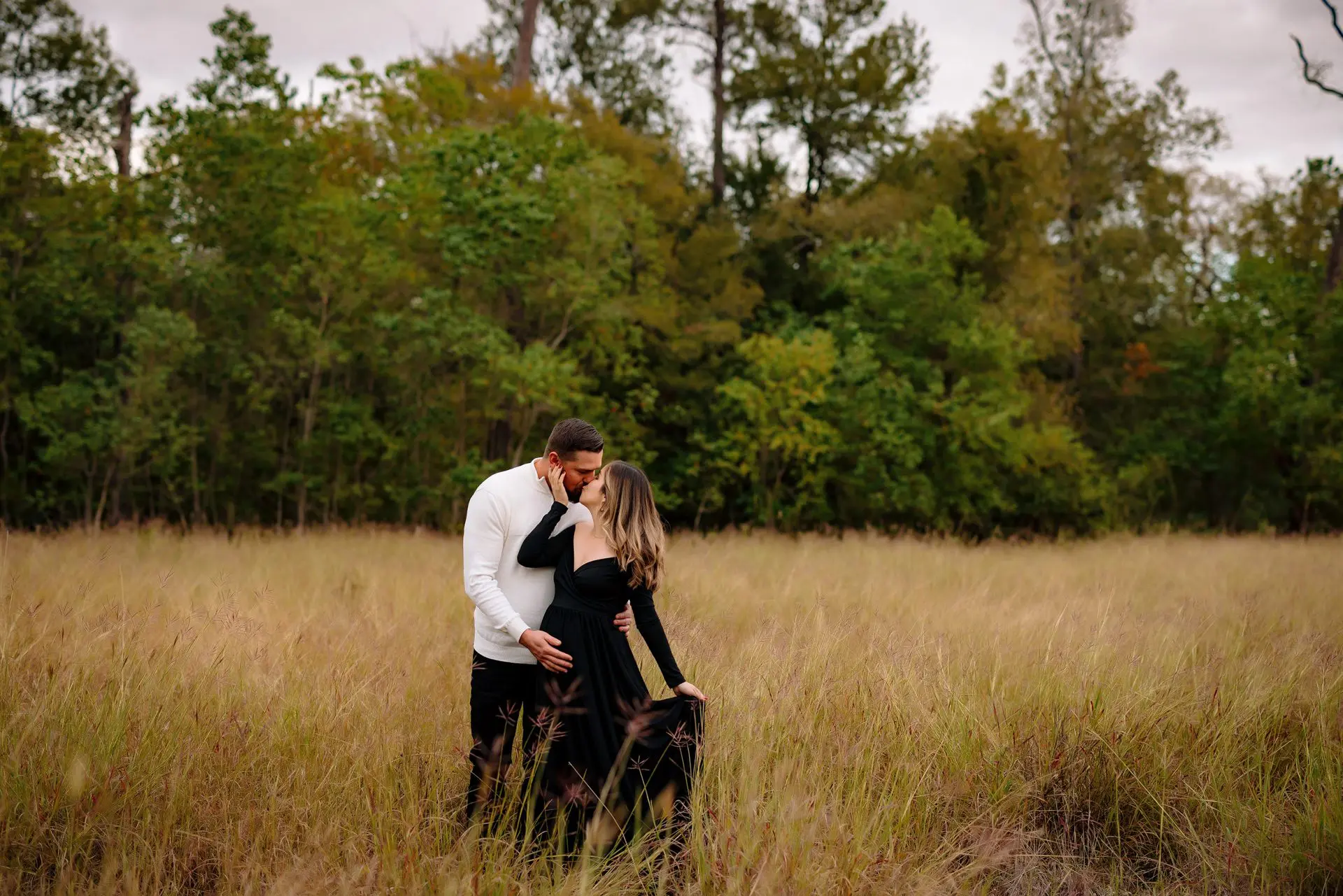 Things to consider if you choose to reschedule:
The weather may still end up the same. And that just happens sometimes- if the weather is still less than ideal or out right raining, let's talk about all our options.
I do not charge to reschedule so there is no fee, but we would need to weigh the pros and cons of pushing our date out a second time.
You may not get as ideal a date. I always try to leave space around my sessions but with best intentions at heart, scheduling conflicts still happen. Depending on how many clients I already have, how many have rescheduled and my own family schedule, the dates you want may not be available. If you had a weekend spot before, you may be offered a week day spot instead.
Flexibility is so important. Most of my weekend dates book up well in advance, so we may have to push a few months ahead to find a date that works well for everyone.
Using the studio is always an option! If it's going to rain or you would rather avoid dealing with the clouds altogether, my studio in Spring is always a great choice!
Somethings to keep in mind for an overcast session:
What you wear matters and it will change the overall look of your session. My style is warm and rich with color- adding warm colors to what you plan to wear will help add balance to you images.
(I am always here to help you so don't be afraid to ask for a second set of eyes on outfits!)
Different seasons mean different lighting and foliage. In the summer, you will have bolder warm sun, in the winter you will have more magentas and cool colors. It really depends on the season what the light looks like.
For foliage, spring months will have more leggy new growth, whereas winter moths may have more brown grasses and bare trees.
Location is important- ask your photographer if your chosen location will work well for an overcast day or if the light is better on a sunny day.
Reasons to keep your session even if it's overcast:
Your session is a maternity session and you don't have much time before baby arrives
There is no flexibility in your schedule
The session is a milestone (like birthday or nursing photos) and you are on a time limit
At the end of the day, it doesn't have to be a tough decision- I want to work with you to make sure your photos match your vision. Once you have run through all the pros and cons, I am always here to make sure your photos come to life!
All of the images below were hot in the exact same location at different times of the year, different outfit choices or with different lighting conditions. On the left you will see "overcast" sessions and on the right you will see "sunny day" conditions. Both are beautiful in their own way!